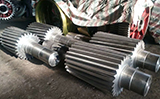 Internal Boring Bars

Positive Inserts with S Type Clamping System

Long Life:

Specially high intensity tool bar ,special handling surface ,excellent wear resistance, high temperature resistance and corrosion resistance with the combination of high intensity and wear resistance inserts, increasing overall life obviously.

High precision:

high-end products are produced with the advanced equipment, high level professional talents and excellent producing process.

Usability:

Installation and replacement of inserts can be quickly completed since the Insert is clamped by screw.

Universality:

Suitable for positive insert with a wide range of geometry.

Economy:

Products with high cost performance to save your tool cost.